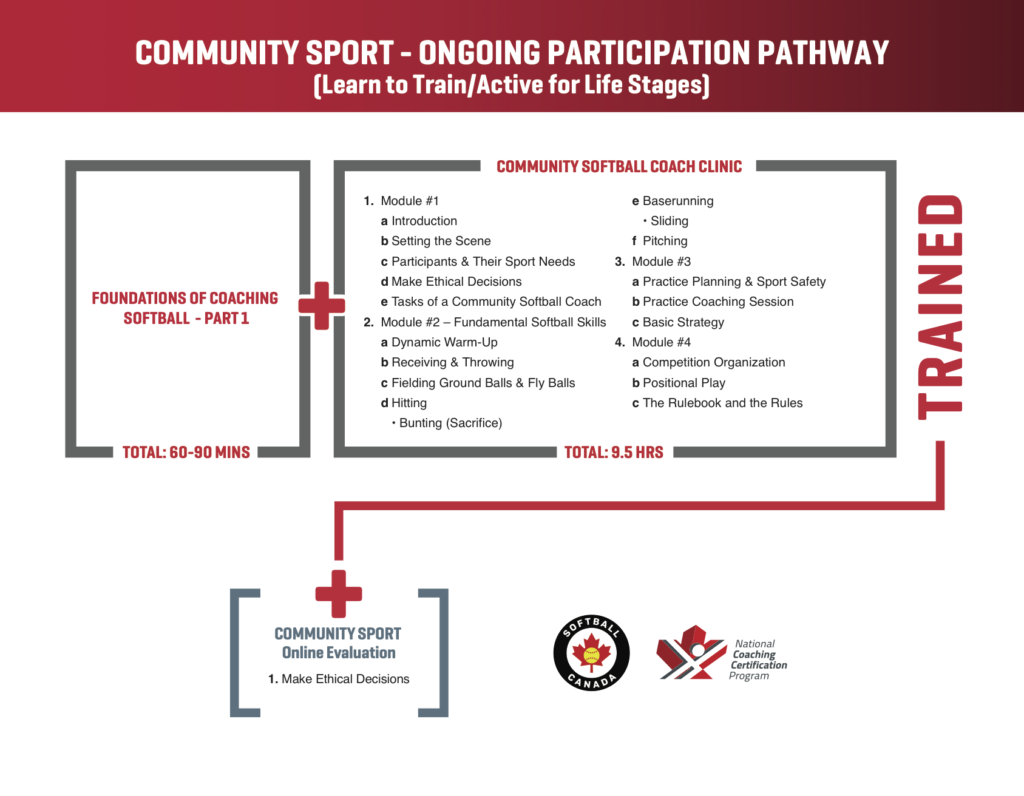 COMMUNITY SOFTBALL COACH CLINIC – 16 HOURS
NCCP Context: Community Sport- On-going Participation
Softball Coaches who are coaching the following age categories should attend this clinic as per Softball Canada's Long Term Player Development Model:
Fast Pitch and Slo-Pitch:
U12 – House League and House League Select
U14 – House League and House League Select
U16 – House League and House League Select
U18 – House League and House League Select
Please contact your Member Association directly to find out what their requirements for Coaches and the NCCP are.
Coaches encourage participants of all ages to continue in the Sport for fun, fitness, skill development and social interaction. This training allows coaches to help their players to love softball, learn more skills and continue participation.
For a Softball Coach to be "Trained" in this context they need to complete the following steps:
1. Check the Softball Ontario website at the following link to see where and when clinics are being offered https://softballontario.ca/coach/
2. Register and submit payment for the Clinic that meets their needs. $125.00 per participant plus HST.
3. Complete Foundations of coaching Softball Part 1 which can be accessed at visit The Locker by clicking here! You will need your NCCP number and your password to log in to The Locker. If you have taken an NCCP clinic or workshop in any sport, you will already have an NCCP number. You should only ever have one NCCP number!! Use the "lookup my NCCP#" or "Forgot password" functions on the login page to retrieve this information. If you have never taken an NCCP clinic or workshop, use the "Don't have an NCCP #? Create one now" function on the login page to get one after providing the required information. Once you are logged in to the Locker, your NCCP dashboard will appear. Select the eLearning tab. Then use the pull-down menu to select "Softball" (the default is showing "Multi-Sport") and under the "Available" menu on the left hand side, you will see all the Softball eLearning modules available to complete.
4. Attend the Community Softball Coach clinic in its entirety